Stay in the Royal Double or Twin room, one of the best rooms of all the Hotels in Edinburgh Scotland. Beds can be configured as a Super King or two large single beds.
This generous room on the first floor is situated to the front of the house with views up to Arthur's Seat. Arthur's Seat is one of Edinburgh's most famous attractions. You will also find a writing desk and pleasant seating area.
Welcome to The Royal Room! This is our largest room with its regal Farrow and Ball Hague Blue and gold colour scheme and stunning, original period features including decorative cornice detail surrounding the ceiling.
The theme for The Royal Room was inspired by visits to the many places in and around Edinburgh. An authentic Edinburgh architectural feel of history combined with modern facilities. One of the late Queen's royal guard stayed in this room and described it as one of the most luxurious rooms in all the Hotels in Edinburgh Scotland.
One of the many special features of The Royal Room includes a hand-painted Frieze around the ceiling. It was hand-painted by the lady of the house, an artist, using a specialised gold paint. It took her around 4 weeks to complete and required the patience of a saint.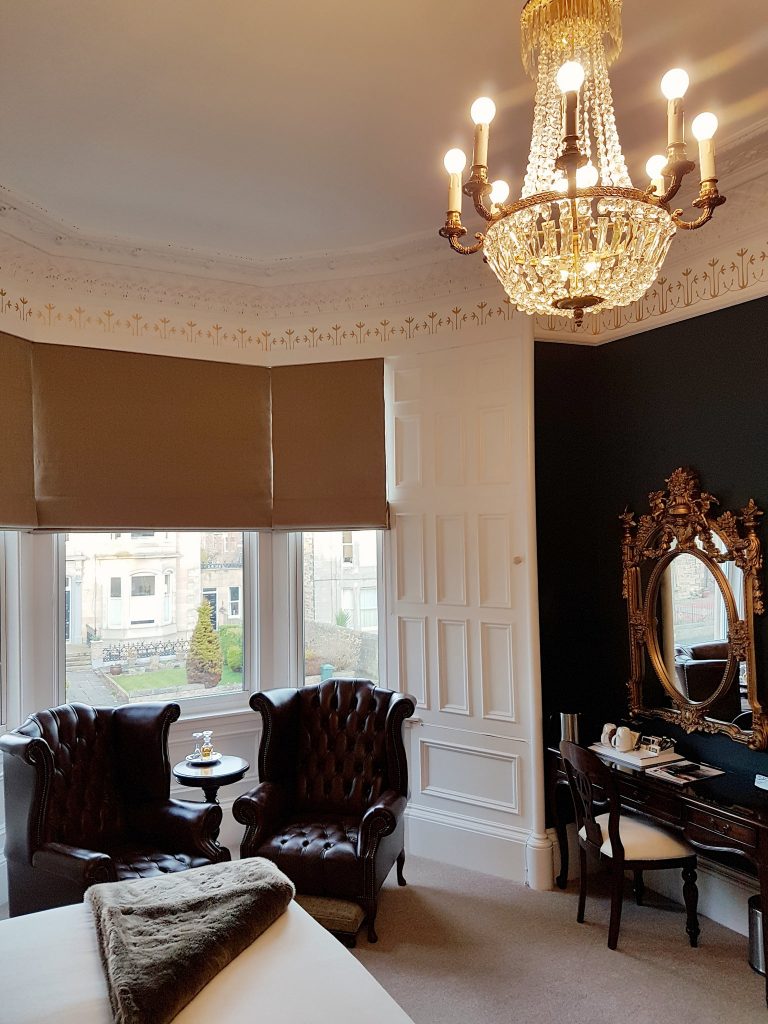 This very spacious ensuite in The Royal Room is a brand new design with a special traditional Victorian tiling pattern. The tiling was custom designed by the lady of the house and finished off with traditional bathroom furniture throughout.
Arthur's Seat Views from our Victorian Bay Window – Hotels in Edinburgh Scotland
Take a seat on your chesterfield armchair by the Victorian bay windows, exclusive to The Royal Room. You can sit, sip tea and enjoy fantastic views of the famous "Arthur's Seat" attraction.
"By knoll and rocky bulwark and precipitous slope, the eye rises to the top of Arthur's Seat, a hill for magnitude, a mountain in virtue of its bold design." – Robert Louis Stevenson
On a clear day you can watch people climb to the summit of Arthur's Seat. You can watch them climb the hill while you relax and take a timeout from your busy sightseeing.
Select Here to read more about Arthur's Seat.
To this day, it remains unclear why this stunning extinct volcano is named "Arthur's Seat". There is a theory about King Arthur which is obviously fictional but the general scientific consensus is that it is named after an ancient warrior known as "Arthur".
It maybe that the seat reference is the appearance of a saddle when Arthur's Seat is viewed from a certain angle. We are lucky to own a clear view of this saddle formation when we gaze out the double glazed bay window from our Royal Room.
We look forward to meeting you on your next stay in Edinburgh Scotland. SELECT HERE to book your stay.
Don't Forget Breakfast: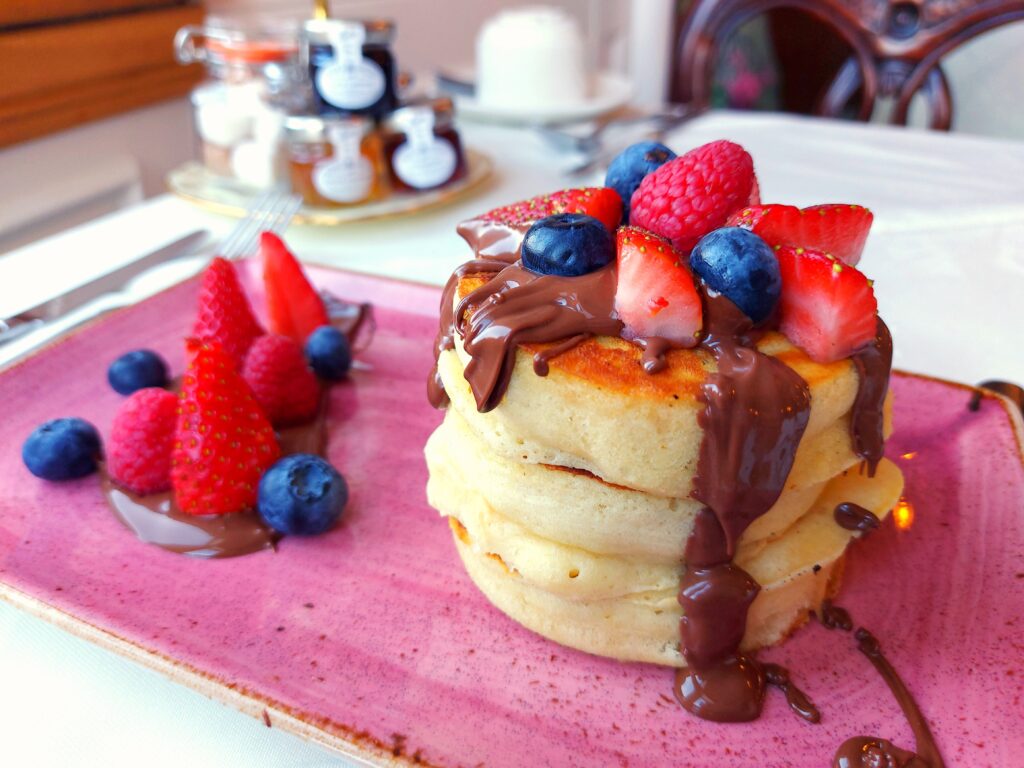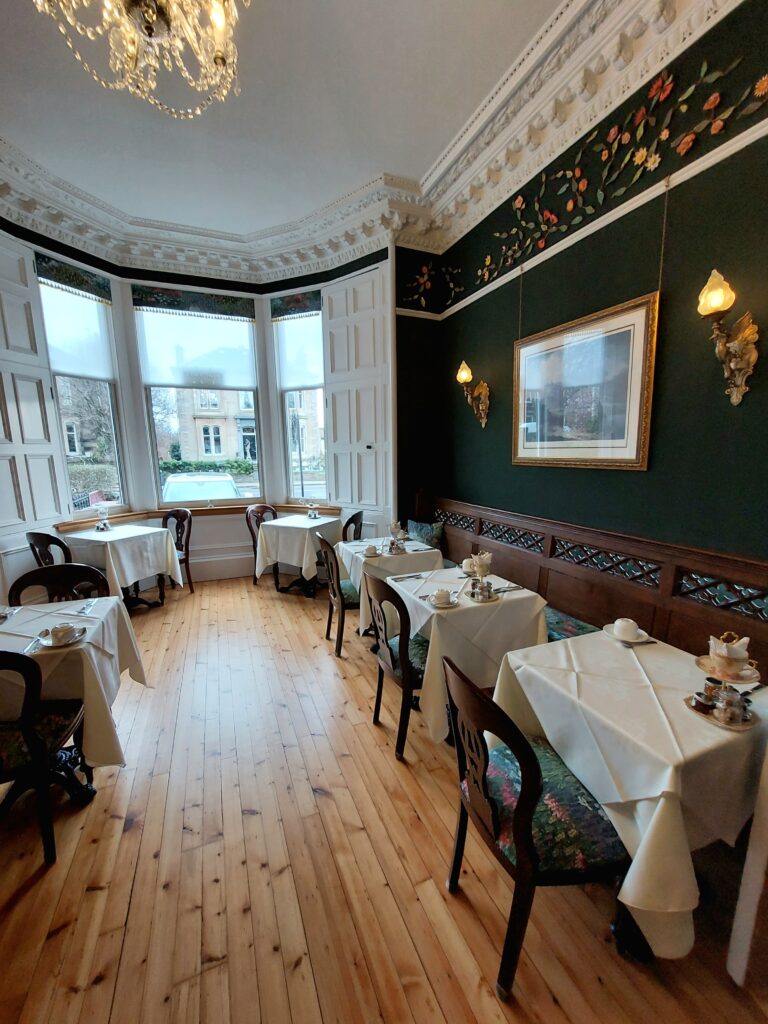 We are also lucky to have a common lounge to use. Comfortable seating and space to relax outside your bedroom. If you book two rooms or visit as a family, the space is ideal to gather and plan your sightseeing.
We have many recommendations for sightseeing, feel free to involve us in your plans to help get as much in as possible during your stay.