BOOK WITH CONFIDENCE: FREE Cancellation up to 28 days before you arrive – Pay nothing up front, pay at our property.
Table of Contents
Introducing Barony House – Luxury Boutique Guest House Edinburgh:
Luxury Boutique Hotels Edinburgh or quirky hotels Edinburgh are the only places to stay to escape life for a while.
Luxury Best Boutique Hotels in Edinburgh Scotland are ideal for that intimate yet luxurious stay. Discover our Edinburgh world in Barony House and be pampered by an incredible breakfast each morning. We are within a boutique hotels Edinburgh old town location. Luxury Edinburgh Hotels old town and our exclusive Barony House are nestled in the perfect, southside location. Try to avoid Boutique Hotels Edinburgh city centre locations as they are often very noisy and are not ideal to experience that extra level of luxury. While so many are obsessed with just The Royal Mille, let us assure you there is much more to experience than just Edinburgh Castle.
Want to stay somewhere special? Try Our Luxury Boutique Hotels Edinburgh – Quirky Hotels Edinburgh:
Our Barony House – the best boutique hotels in Edinburgh, Scotland is truly unique. We are more exclusive than luxury hotels Edinburgh. Quality counts and so does hospitality! Let us help you discover all there is to see and do in Edinburgh. Edinburgh is a real medievil city with a population of around only 560,000 people! While the rest of the world experiences exponential population growth and all its associated pressures, we are so lucky to live in a city of timeless historic archecture and culture outside of the metropolises of the world. We will never take Edinburgh for granted, by the end of your stay with us, we hope you will take something away which will leave you wanting more.
We are Aussies and we love ❤ hospitality! When you stay with us, you are staying with friends. We are obsessed with great food, comfort and an escape from reality.
Don't be fooled. We know Edinburgh and after visiting this incredible city on a home exchange, we discovered there is so much to explore in this fabulous city. We decided to stay for the long haul. So we moved! We moved and grabbed this Boutique Hotel Edinburgh, completely gutted it, re-built it and put our Aussie stamp of quality everywhere. Quirky Hotels Edinburgh? Maybe but nice to stay in luxury and enjoy some quirky Hotels Edinburgh at the same time.
We really look forward to hosting your stay and sharing this amazing Quirky Hotels Edinburgh experience with you.
In Australia we have SPAACE … so, we have made sure there is plenty of common space for you to enjoy:
Try Our Exclusive Club Room and relax in our Luxury Boutique Hotels Edinburgh – Quirky Hotels Edinburgh:
Discover Edinburgh from our Front Door:
There are many local attractions right on our doorstep! From castles to museums to art galleries and more, there is an attraction for everyone. Location is everything and nothing beats our Southside / Old Town location with a gateway to North Berwick / The National Museum of Flight, Rosslyn Chapel and Athur's Seat. Have you been to Tantallan Castle? A stunning beauty at the mouth of The Firth of The Fourth river, incredible views into The North Sea from the top of a truly unique castle ruin.
Craigmillar Castle – Home of Outlander & Outlaw King:
Have you been inside Rosslyn Chapel?
https://www.baronyhouse.co.uk/blog/edinburgh-blog/rosslyn-chapel/
..Or Booked an Underground Tour?
https://www.baronyhouse.co.uk/blog/tours/underground-tours-edinburgh/
How about a hike up Arthur's Seat before Breakfast?
https://www.baronyhouse.co.uk/blog/edinburgh-blog/arthurs-seat-edinburgh/
Do you fancy a 1 day tour to The Highlands?
https://www.baronyhouse.co.uk/blog/tours/highland-tours-edinburgh-scotland/
More Questions About Boutique Hotels Edinburgh?
What is the most unique hotel in Edinburgh?

During lockdown, our resident Artist painted our trademark 'Manic Mugs'. They were so unique and quirky that the Russian Embassy staff from London once stayed with us and purchased some to take home!

What is the coolest hotel in Edinburgh?

Scotland is a very cool place but Edinburgh is a special place. At Barony House, our Boutique Hotels experience gives you that relaxed luxury in an exclusive upper middle class Victorian suburb. Quality surrounds you but nothing brightens up your day better than our resident artist. She colours your entire experience, irrespective of the weather! Hand made headboards and bespoke ceramic designs colour the entire property.

How much does it cost to stay at a boutique hotel in Edinburgh?

We recommend staying roughly 1 mile out of the city centre. You will save big money without compromising on quality. Transport links into the centre are excellent so location will not be a problem.
Travel like a Local:
What about local places to eat? We have many great quality restaurants on our doorstep, all within 10 minutes walking distance. If you don't like to walk, we have a GPS Taxi Butler service. Press a button and presto! A Black London Taxi arrives on our doorstep!
You can book ahead to Condita – our local Michelin Star restaurant or else enjoy fine dining at The Rhubarb restaurant in Prestonfield House. Prestonfield House features our local Highland Cow and wild peacocks roam the grounds.
It is easy to melt the time away on one of our common lounges and enjoy the low pressure atmosphere around our honesty bar. Alternatively take an afternoon walk to The Meadows parkland to enjoy Edinburgh at play. The Meadows really comes alive in the summer months and of course during The Edinburgh Fringe festival.
If you prefer a good quality locals experience, rather than fine dining, you can take a visit to Pataka Indian Restaurant. Pataka is the favourate Indian/ Bangli food haunt of local novelist: Ian Rankin. Pataka sports Macintosh Friezes around the restaurant, all inspired by our resident artist's links to the pioneer of the Arts and Crafts movement – John Ruskin!
Do try to book a longer rather than a shorter stay at our Boutique Hotels Edinburgh experience. There is too much to discover in just a day or two. Not to mention the many specialty Breakfast offerings to choose from each morning of your stay.
Quirky Hotels Edinburgh Experience:
All our Luxury Rooms have been designed by our Aussie artist and each room contains special features including hand made bed heads individually themed with specialty fabrics by famous historic designers.
Spoil yourself with a stay in a unique artist designed property. Everything has been made with care and attention to detail to inspire you to create your own designs when you return home. Pay attention to the hand painted friezes in one of our common lounges and in some of the rooms. The John Ruskin room contains Susan's first attempt at a frieze. Designed and hand painted in honour of Susan's famous ancestor, John Ruskin. You can read about our ancestry discovery here. One of our common club room lounges has a fabulous frieze and The Royal Room has one of the most elegant.
You can take your own piece of Quirky Hotels Edinburgh art home as Susan's famous "Manic Mugs" are on sale as a permanent memento of your stay. She also hand designed and painted quirky baubles for sale.
The main thing to do is relax in comfort. We make sure your luxury boutique hotels Edinburgh stay is comfortable and enjoyable. To leave our place feeling as though you have had a great time away, pampered with high quality food for breakfast and lots of warm and friendly hospitality.
No luxury boutique hotels Edinburgh stay is complete without good laughs, good food and a thought provoking experience. We can't wait to welcome you to our world.
Find our Book Now button floating on this page to book your room with a 10% discount for booking direct or feel free to contact us with any questions. We are always happy to hear from you.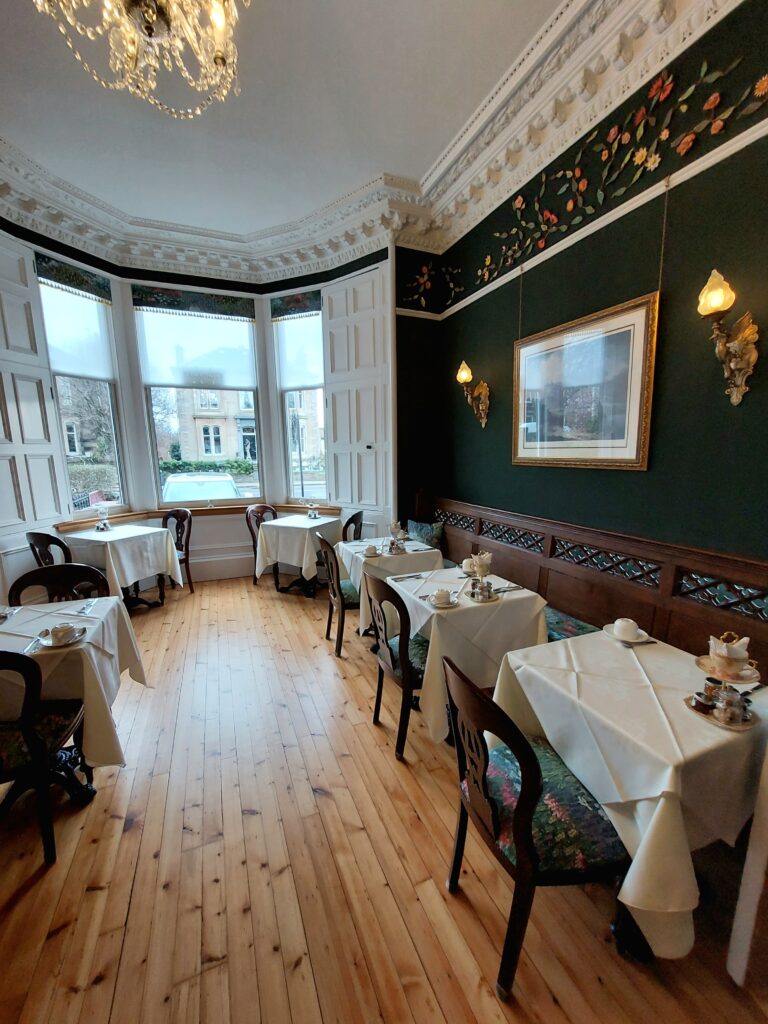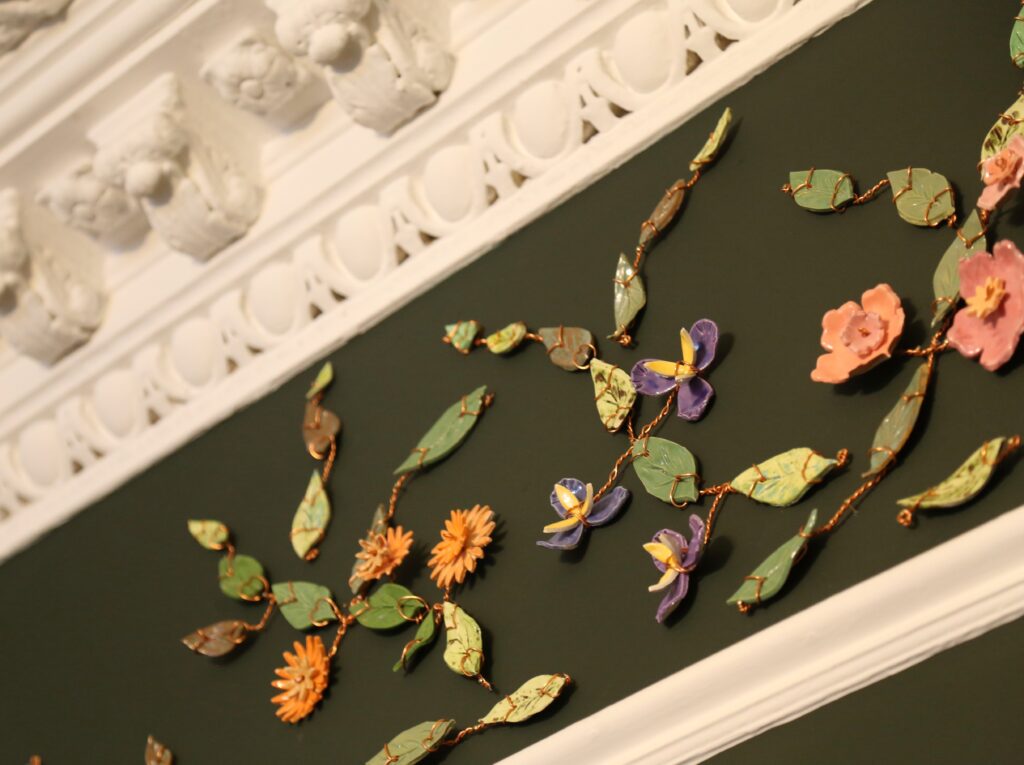 We are not Hotel Indigo Edinburgh or the Balmoral Hotel Edinburgh – Did someone say Kimpton charlotte square? Or Cheval old town chambers? Or Witchery by the castle? Dunstane Houses, The Lane, House of Gods, Black Ivy are all Edinburgh Boutique Hotel in / hotel in Edinburgh boutique. You can Book The Dunstane Houses here:
What are the best boutique hotels in Edinburgh? How much does it cost to stay at a boutique hotels in Edinburgh? What boutique hotels in Edinburgh have nice views?

Which boutique hotels in Edinburgh are romantic?

The romantic ideals of The Arts and Crafts movement colour your entire experience at Barony House.