The Baroness room in Barony House is recently redecorated. This room has a pleasant outlook over our peaceful rear garden and contains many bespoke treats.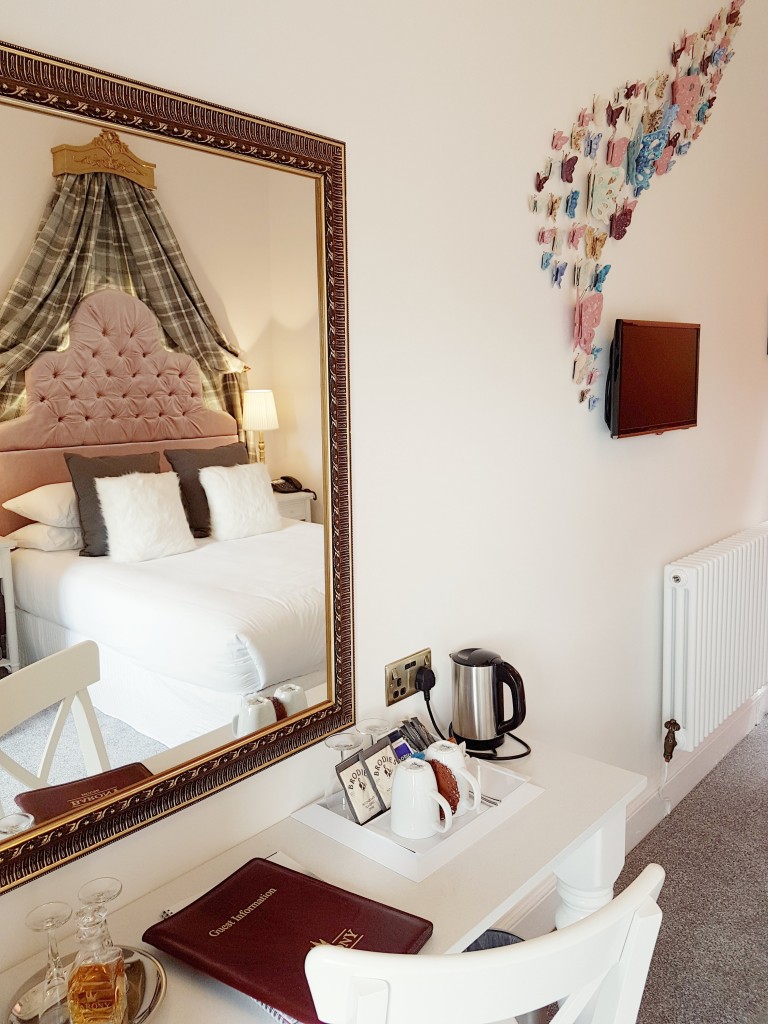 This room is themed with warm, light colours which take full advantage of the natural light. The inclusion of antique brass/gold highlights and then stone tops, are designed to create a feeling of calm/luxury fit for The Baroness of the house.
DIY in Action!
Susan not only designed the theme of this room in addition, she hand-finished the walls then hand-made the opulent bed head and hand-made the butterfly feature. The bed head features up-cycled vintage brass buttons and the headboard is completed with a Scottish tartan draped over the velvet finish. The LED lights help create atmosphere and can be switched on or off at the bedside.
The butterfly feature includes clay butterflies hand-made by Susan from scratch over many weeks. Sadly there are not as many as originally intended with thanks to our youngest daughter, Primrose who discovered a full box of brittle and incomplete butterflies then decided to tip them all over our hardwood floor! Bless her. Our butterflies were made by hand and then kiln fired by a local ceramics shop http://www.doodlesscotland.co.uk/
The chandelier is a fully restored vintage piece containing authentic French crystal. We are lucky to be living in a modern age where LED technology is able to bring this old piece back to life so brilliantly. The chandelier is then topped with a crown décor which matches the theme of the bed head.
A final mention for this room is the original positioning of the bathroom vanity. In Victorian times, it was traditional to have the vanity positioned in the corner of the lady's bedroom in isolation. It is modernised and enhanced to meet the expectations of luxury for your comfort. Now, Its location stands out as an authentic feature of the original home and of this special room.
View more of our unique rooms in this luxury Boutique Guest House experience:
The Royal Room
The Garden Room and The Ruskin Room