Here at Barony House, we have had the good fortune to host thousands of holiday makers, keen to explore Scotland from all over the world. We thought we should share some of our guest favourite Best Highland Tours from Edinburgh Scotland:
RABBIE'S HIGHLAND DAY TOURS TO GET FROM EDINBURGH SCOTLAND:
Rabbie's has a number of highland tours Edinburgh Scotland to choose from on their website but we recommend the 1 day tour which covers the most ground in a single day:
https://www.rabbies.com/en/scotland-tours/from-edinburgh/day-tours/loch-ness-glencoe-highlands-day-tour
This tour includes the Loch Ness Glencoe tour where you can get a glimpse of The Loch Ness Monster. Also look out for the 2 day tours from Edinburgh to highlands on their website.
Rabbie's highland experience tours uses the small buses, pictured which we recommend over other tour companies which use a larger, bus. The large buses can feel a little sterile and comfort is king when you are going on such a long tour.
Rabbie's is a very popular tour company for highland tours Edinburgh Scotland from Edinburgh and they have been around a long time. Many of our guests have used them without complaint for their best Scotland Highland Tours Edinburgh.
TIMBERBUSH HIGHLAND TOURS SCOTLAND FROM EDINBURGH:
Based on feedback from our guests, we would describe this tour as a little more upmarket. Again, we would stick to the Loch Ness 1 day tour, details of this and more are available on their website:
https://www.timberbush-tours.co.uk/our-tours/from-edinburgh/1-day-tour/loch-ness-glencoe-highlands
Timberbush scotland tours leaving from edinburgh also offer private tours and more customised options however feedback from our guests after using The Timberbush standard tours have always been glowing.
For a more special best highland tours Edinburgh Scotland experience, we would recommend Timberbush.
WEE RED BUS – HEART OF SCOTLAND TOURS:
Heart of Scotland Tours offer the fun and quirky " Wee Red Bus " highland tours. We have had guests use them to guarantee a more exclusive, smaller bus. In the days after Covid, more smaller busses are being used across the board however, in Covid recovery it is always important to check with the tour company over the size of their busses and if they can guarantee a smaller bus for your tour.
Again, we would recommend the Loch Ness tour:
https://www.heartofscotlandtours.co.uk/our-tours/tours-timetable/loch-ness-and-the-highlands-2/
MAP OF THE WEE RED BUS ROUTE TO LOCH NESS: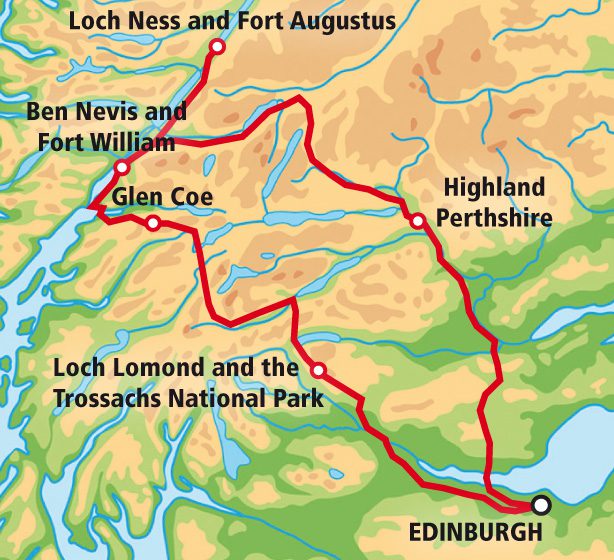 Heart of Scotland also offer private tours and more customised options but are not as upmarket as Timberbush. If you are up for a 3 day scotland tours from edinburgh, they also have these options on their website. Highland Tours Edinburgh Scotland offer you so many great choices. Loch ness and the highlands can be seen on that map.
There are more highland tour companies to choose from other than the above 3. Highland (e)Xperience Tours are also a great choice or else Gray Line Highland tours. They do operate with larger coaches however but you can always enquire with them to see if they have smaller coach options. Both are reputable and been around a long time so you can't really go wrong.
OUR #1 PICK FOR THE BEST HIGHLAND TOURS EDINBURGH?
To pick the best tour is a tough one. They are all good however it depends on what you want. If you want exclusive and comfort – Timberbush. Mainstream – Rabbie's and fun – Wee Red Bus. We have had many guests use Highland (e)Xperience Tours before though and also enjoyed that one. It ultimately comes down to your budget and how much you want to invest into your experience. There is an old saying: ' You get what you pay for '.
Common Questions:
Can you do a day trip from Edinburgh to Highlands?
Yes, many options which are all accessible from us.
What is the best day trip from Edinburgh?
A tough one, many options – all the companies offer a variety of options. We have detailed a few in this post
Can you visit the Highlands from Edinburgh?
Absolutely. It is a surprisingly short trip to use a Highland tours Edinburgh.
What is the best time of year to visit the Scottish Highlands?
This is a tough question. The highlands are an experience anytime of the year. It is safe to travel between March and November as the weather should be stable enough to enjoy the scenery and history.
Which experiences are best for tours in Scottish Highlands?
Loch Ness and back in a circular route to take in as much ground as you can in a day. Highland tours Edinburgh offer many experiences however.

Which places provide the best tours in Scottish Highlands for adventurous travelers?
Timberbush will offer you a customised tour for the more adventurous spirits but ask around to get a few more options before you decide.
Try the jacobite steam train. 🙂
WHERE DO YOU STAY AS A BASE FOR ALL OF THESE HIGHLAND TOURS EDINBURGH?
We would love to host a stay with us while you are in Edinburgh. We are proud to be here and love all the history and timeless architecture Edinburgh has to offer. It is a special place in the world.
We make sure to pack you a great breakfast before your early morning start for your tours from Edinburgh. Your packed breakfast can also double as a morning tea for those hunger pains. Breakfast is never offered on the tours so we are here to make sure you don't start your day hungry.
Be sure to book a long enough stay to fit it all in! Time and time again we see guests who have booked too short a stay to see everything they want to see. Remember, although Edinburgh is a small place by Capital City standards, you can be sure it is densely packed with a lot to see!
From Craigmillar Castle, Arthur's Seat, Rosslyn Chapel, Dr Neil's Garden, Holyrood Palace, Edinburgh Castle and the Old Town to The Royal Yacht Britannia, Georgian House, The Portrait Gallery, Museum of Scotland, Surgeon's Hall Museum and The Meadows – there is literally too much to see on a short stay. The Highland Tours leaving from Edinburgh Scotland are just one small piece of the great Scottish Journey to discover on your trip.
The morning after your highland tours Edinburgh is something to look forward to. Our award winning breakfasts below await you the next day.
RESERVE YOUR STAY AT OUR 5 STAR BOUTIQUE GUEST HOUSE / B&B – WE CAN'T WAIT TO WELCOME YOU TO EDINBURGH & SCOTLAND
Our resident artist managed to paint 'Manic Mugs' during 'Looney Lockdown'. You can see them pictured above. Not only do you get to drink out of them during your stay but you can purchase your own 'Manic Mug' as a souvenir of your stay. If mugs aren't your thing, you can purchase 'Batty Baubles', also designed and hand painted by our resident artist.
Highland Tours Edinburgh are not complete without a stay with us here in Barony House, Edinburgh. We look forward to hosting your stay!