Table of Contents
Edinburgh history photos go hand in hand with Barony House. The photo above was taken in the 1940's and shows Barony House on the left. Back when the roads were cobblestone and trams travelled up and down the road. Photos courtesy of Edinburgh history photos.
There was also a handy railway station to the sharp left in that photo which in 1962 was decomissioned for passenger services, against common sense. The railway was a brilliant suburban line which would come in handy right now. In fact the railway is still operational for freight only and possible reinstatement for passengers has become a political topic.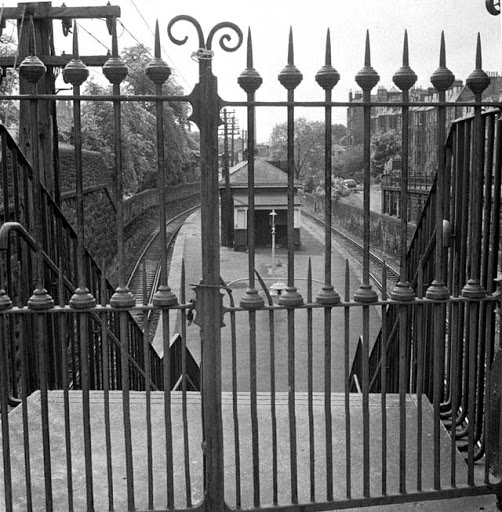 Barony House History – Edinburgh history photos:
When we first arrived here however, we were keen to go back in time to when Barony House was built and take a snapshot of its history from Edinburgh history photos.
It was not easy to do. A lot of painstaking work went into obtaining the original hand written title for when the land was purchased and who purchased it. After a lot of persistance we are pleased to present what we found:
Cast your mind back 130+ years, to 1887 when Barony House was built. In the previous year Edinburgh had hosted the International Exhibition of Industry, Science and Art in the Meadows parkland, a short walk from here. Prince Albert Victor, grandson of Queen Victoria, cut the ribbon at the opening ceremony of an event that showcased all of mankind's achievements throughout the Victorian era.
World Expo 1886 put Edinburgh in the international spotlight. We are lucky to have some Edinburgh history photos from that famous expo, which was held only a 15 minute walk away from our front door:
The Eifel Tower was built only a few years later for World Expo 1889, in Paris.
Back to our story, by the following year – 1887, the founder of George Donaldson & Sons, a reputable and well-established Edinburgh grocery firm, had died. He entrusted his family business to two of his eldest sons, one of whom was also called George. It was this George Donaldson who at the age of 41 was the very first owner of Barony House.
The nearest census shows the occupants of Barony House – 5 Star Hotels Edinburgh / Guest House Edinburgh to be: George aged 45; his wife Mary, aged 50; his daughter Margaret, aged 11; and two servants: Annie Mutch (houseman), aged 20 and Joan Shiersinger (house cook), aged 17.
Barony House and its neighbouring townhouses were home for your typical middle to upper middle class families of the era. When George and his family lived in Barony House, his neighbours were mainly professional men, general practitioners and the like.
The house has two entrances. The main, grand entrance at street level was for George, his family and distinguished guests. The servants' entrance was located down the stone stairs to the right of the front door. These quarters would have been used by Annie and Joan.
As time passed, the city's population grew. Live-in servants were no longer part of mainstream culture and inevitably, townhouses of this size were divided into flats and sold off. In 1969 this house was converted from a single-family home to a small 6-bedroom B&B. Luckily, the change of use saved this old, traditional home from being divided up and sold off, and many original Victorian features have been preserved.
Today, it is the owners who live down the stone stairs in the servants' basement, while guests of Barony House enjoy the main house and the experience of living in what was once a grand, family home.
Barony House was built around seven years after the start of the British Arts & Crafts Movement, one of the most influential and far-reaching design movements of modern times.
It is with great pleasure we can still enjoy many original nature-themed features from this period throughout the house. See if you can spot the hand carved flower in the original wooden timber staircase, Victorian tiles in the vestibule, ornate nature themed cornicing in the dining room/guest rooms, stunning ornate cupola and some fully operational timber window shutters. Edinburgh history photos come to life when you stay with us.
Pay attention to the plasterwork on the ceiling of our dining room during breakfast. You will see grapes, wheat and other hints especially crafted to suit our original owners. George and his family were wine merchants and grocers so no surprise on their choice of detail in our plasterwork.
Sometimes life throws up incredible coincidences! The famous John Ruskin was a pioneer of Arts and Crafts design; he had famous followers including the artist Turner and was a friend of Charles Darwin. While researching our family tree, we discovered Susan was a direct descendent of The Ruskin family. Read more about our discovery via our website link:
https://www.baronyhouse.co.uk/blog/history/our-famous-ancestor-john-ruskin/
We found a special portrait of the man himself: John Ruskin so we are hanging him above our priority Taxi service on the ground floor.
Over time, our family have been redecorating and refurbishing Barony House sympathetic to the time period of its construction. There are many new creations by Susan and hand-made detail throughout the home, all in keeping with the ideals of her famous ancestor.
Ultimately though, Barony House operates best as a well-loved family home where many more memories will be carved into its stone walls for generations to come:
We really hope you enjoyed our write up on the history of Barony House and some history in our local area. We want to thank Edinburgh history photos for their amazing insights into our past. BOOK NOW to secure your stay, we look forward to meeting you!