High quality Luxury Guest Houses in Edinburgh are a great alternative to staying in a more of the same Hotel. See the photo above of one of our Boutique Guest Lounges. The U.K Luxury Boutique Guest House Edinburgh experience is a lot more upmarket than a simple Bed and Breakfast or Hotel. Staying in a Boutique Guest House Edinburgh feels more homely than a 5 Star Hotel however you get the added benefits of a host and a delicious 5 Star Breakfast.
Table of Contents
WHY CHOOSE A LUXURY BOUTIQUE GUEST HOUSE EDINBURGH?
Luxury Boutique Guest Houses Edinburgh are a cross between a Hotel and Luxury B&B i.e you get all the warmth, personal experience and hospitality from a Luxury Bed and Breakfast but you also get your own privacy and it feels less intrusive, as it is in the same planning class 7 as a Hotel. The best of both worlds so to speak.
Boutique Guest Houses Edinburgh are usually larger places, have more rooms and the more upmarket Luxury Boutique Guest Houses have separate, comfortable guest lounges as independant spaces from the owners / managers.
Here at Barony House Luxury Boutique Guest House Edinburgh, even our vestibule has had a makeover:
Supporting Local Business:
In this day and age of multi-national corporations, now more than ever, the little guy or small independent / micro businesses are being pushed out of existence. One might ask, why support local business?
Here are a few reasons:
We are a small and efficient Hotel which means a higher level of detail is focused on you: (i) Cleanliness (ii) Quality (iii) Care and attention.

Multi-nationals are a "more of the same" experience. They are designed to be money making machines who, to put it bluntly, treat you like a number.

Oh the humanity! Back in Victorian times, the industrial revolution resulted in huge wealth and progress but somewhere along the way, the spirit of humanity started to lose its way. John Ruskin, was a great pioneer in a movement to bring the soul back into humanity to co-exist with progress. It was called the Arts and Crafts architectural movement. By a sheer coincidence, there are many examples of Arts and Crafts period features throughout our house – Barony House and our Susan is a direct descendant of The John Ruskin family. Incredible coincidence! Read more about that discovery HERE. Ultimately, by supporting independent business, you are keeping the human spirit alive.

Everyone wants to give back to society. Where do you donate? Multi-national charities who lack transparency? The most efficient " win-win " way to give money back to society is by supporting real families, real Mums and Dads who are working hard to earn a living for their family. Supporting local business, no matter the industry, is the best way to achieve this.
Discover our special experience:
At Barony House, we are last rated as a 5 Star Luxury accomodation provider, to view our luxury boutique hotel rooms, please select the link below:
Breakfast?
A comfortable night's sleep in our boutique hotel Edinburgh is only complete when you can roll downstairs to a deliciously cooked, fine dining breakfast. An example of which you can see below: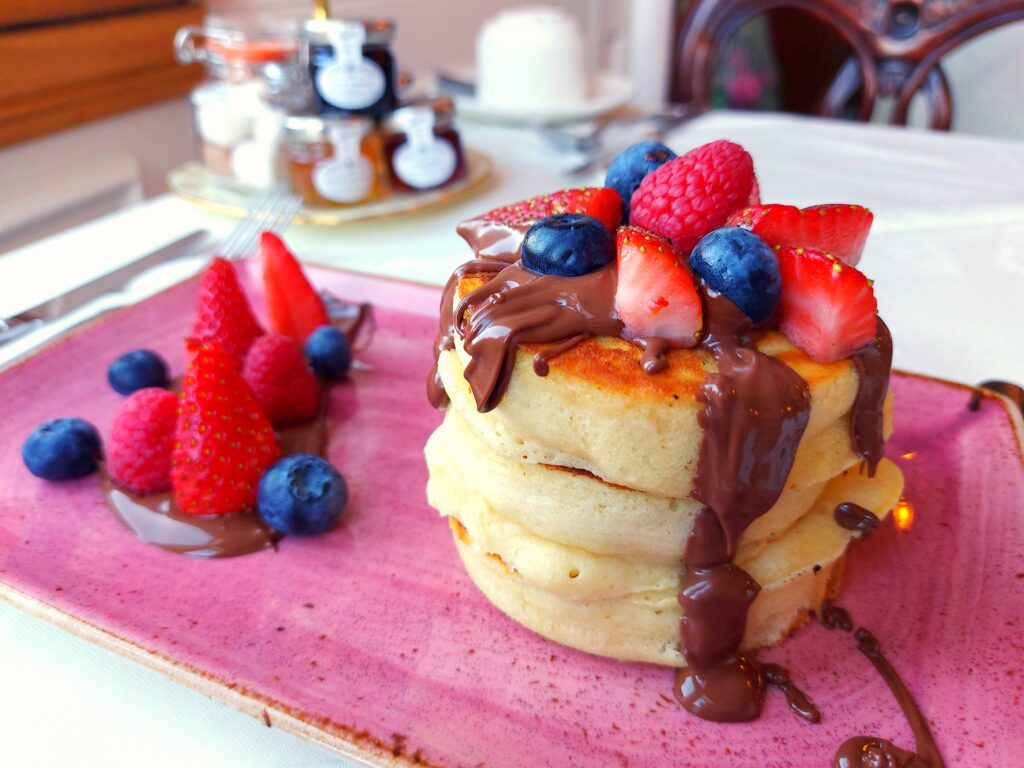 Our chef and cook is an obsessive "foodie" who used to own a food blog. It ended up going viral in the United States. She also designed all the rooms, hand painted all our guest mugs and is raising 3 children! Guest Houses Edinburgh is a tough business but not so tough if you enjoy it as much as we do.
What are you waiting for?
Book your next 5 star holiday in our Luxury Boutique Hotels Edinburgh. Enjoy our perfect location, experience the warmth of our hospitality and feel spoilt in our fine dining 'secret garden' breakfast experience @ our Boutique Hotels Edinburgh.
SELECT HERE TO VIEW OUR BOOKINGS DIARY