Table of Contents
Note: All photos of Rosslyn Chapel (sometimes referred to as Roslin Chapel) on this page are original and taken by us with special permission. We want to thank Chapel management for allowing this.
This amazing Roslin Chapel was built way back in the year 1446, in the town of Roslin. Wow, it is so hard to imagine life back then. Fast forward to 2003 and Dan Brown writes a novel called "The Da Vinci Code" prominently featuring Rosslyn Chapel. In 2006 they made the movie, starring Tom Hanks and many parts were filmed here.
Read about the history of The Chapel (Roslin Chapel) HERE.
Read about The Da Vinci Code & Rosslyn Chapel (Roslin Chapel) HERE.
One fine day, our family had the opportunity to visit the little village of Roslin and Rosslyn Chapel. We were greeted warmly by the staff in the enourmos visitor centre then we were very lucky to have a special permit to take photos to share with you throughout this website.
The devil is in the detail. There are so many intrinsically meaningful stone carvings throughout. It really mesmorises you and makes you wonder what happened to all the skills people once had? People were able to create such ornate masterpieces throughout this chapel. Where are those skills in modern times?
Photos of our visit to Roslin Chapel: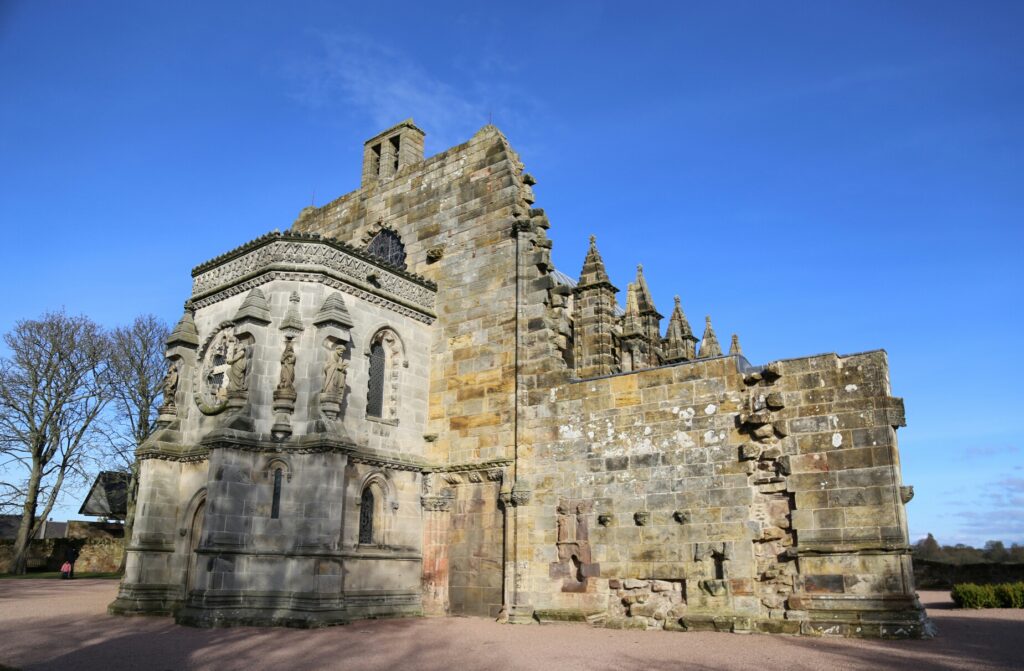 Now let's go inside The Chapel:
The laser pointer guided tour was fascinating. It was included in the entry price so well worth listening to. We all sat on the chairs under this ceiling and a lady used a laser pointer to talk about the detail on some of these ornate carvings. Given the history of the place, there are so many stories related to The Masons and The Knights Templar which really capture the imagination. As Dan Brown points out in his book, there are symbols on the U.S bank notes connected with The Masons which have connections to Rosslyn Chapel.
Who would have thought this tiny chapel on the outskirts of Edinburgh would end up having so much global significance in the modern world?
In the movie, the final scene of The Da Vinci Code was filmed in the crypt of Roslin Chapel. Sadly, we didn't take a photo down there but there was a photo of the final scene on display which showed Tom Hanks doing his thing.
Where is the best place to stay?
As luck would have it, here at Barony House we are in the perfect location to access Rosslyn Chapel. The one main road we are on, takes you straight there. Rosslyn Chapel is on the southside of the outskirts of Edinburgh, not far from Ikea and well sign posted from our front door. You can catch the 37 bus to Penicuik from accross the road then it will take around 35 minutes. You can also drive straight there with plenty of free parking.
Above all, when you also consider our close location to the other main attractions of Edinburgh, we are an ideal choice to stay. BOOK NOW and we will love to host your stay with us and share more top tips on everything Edinburgh!
Want to see something else? Try Craigmillar Castle! It is also very close to us, see our write up on our visit below:
We Look forward to welcoming you to our world here at Barony House. To view our booking diary and secure your booking, please select HERE.
Have you ever wondered what the difference is between a B&B and a Guest House? FIND OUT HERE!