Table of Contents
Note: All photos of our visit Edinburgh Castle on this post are from our own visit and our own photos.
To visit Edinburgh Castle is to visit a 'bucket list' attraction in. Whatever the weather is like outside, there is no doubt there is something truly mystical, historic and deeply thought provoking about a visit here.
To visit Edinburgh Castle and get the most out of it, we recommend doing a little research on the castle to give you a background feel before you arrive:
Wikipedia is possibly a good source as it is less commercially motivated:
https://en.wikipedia.org/wiki/Edinburgh_Castle
What is most striking is how different it looks from all angles. To visit Edinburgh Castle, it doesn't look like your cliched castle from a fairy tale book, instead it represents a glimpse into how a real world, practical fort had to be built to fit a medievil age of barbaric power struggles, invasions and a hard life.
To visit Edinburgh Castle from our house, it is simple. We just walked. Edinburgh is a very small, highly dense city which allows one to spend the whole day just walking around and exploring. Very simple and pleasurable to walk up the main road from Barony House until you hit The Royal Mile, then walk up, 1/2 a mile on The Royal Mile until you hit The Castle.
WOW! Look At This View from Visit Edinburgh Castle:
You are rewarded with great views from the top of The Castle. Here you can see Waverly Train Station, The Scott Monument and North Bridge. North Bridge is the actual road Barony House is on. Carlton Hill is also visible at the top of the frame.
The Scottish Crown Jewels – Edinburgh Castle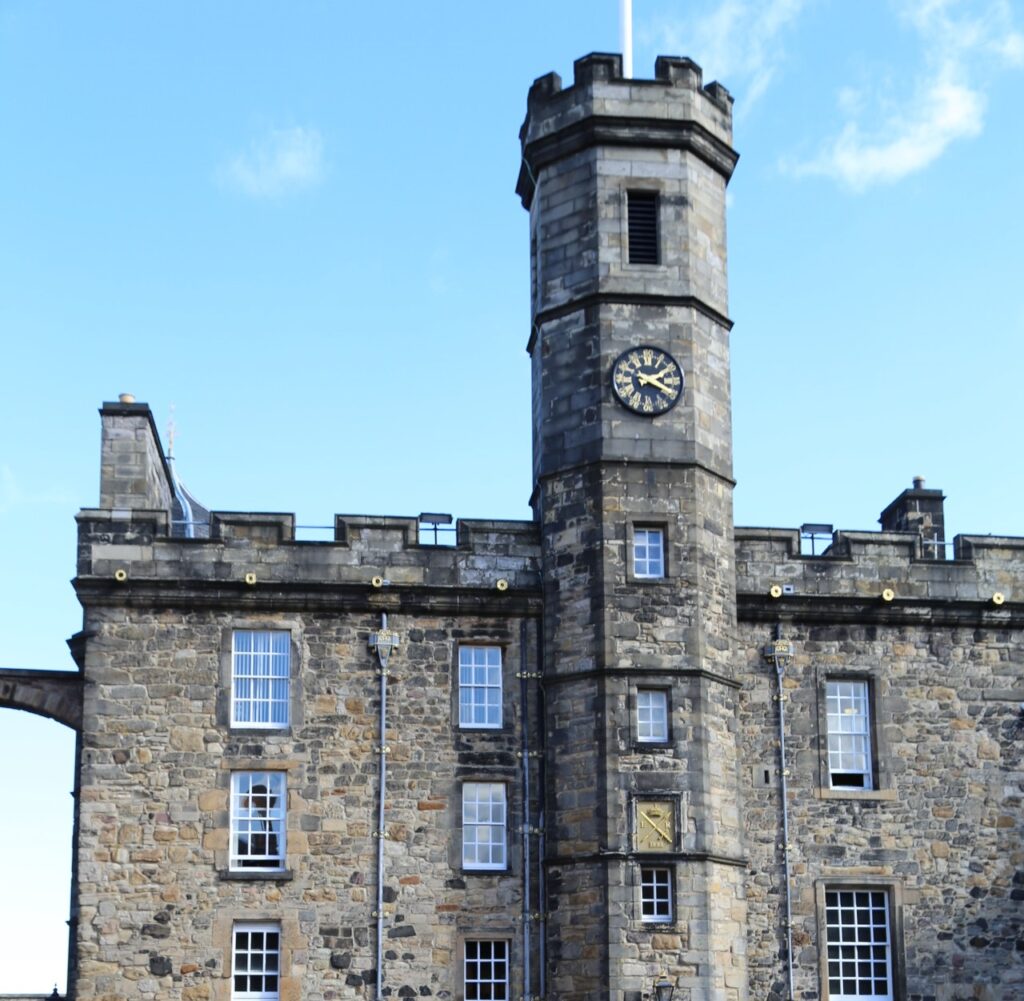 Note: Mary Queen of Scots gave birth to James I of England / James VI of Scotland in a small bed-closet inside this Palace of Edinburgh Castle. Well worth a look.
The Great Hall
End of the day – Edinburgh Castle
Did you know Edinburgh has 2 Castles?
After you have done your visit Edinburgh Castle, you have to check out Craigmillar Castle. Most people tend to prefer Craigmillar Castle as it is not only the most intact castle ruin in Scotland, it is also home the Netflix Movie "Outlaw King" starring Chris Pyne who played Robert The Bruce (first King of Scotland). You can read more about Craigmillar Castle here:
Where to stay?
With us of course! At Barony House, we have worked tirelessly over the years to achieve an official, independently verified 5-Star rating with The Scottish Tourist Board. Not only do we provide you a luxury stay with comfy beds and artist-designed rooms but we have comfortable common lounges and an INCREDIBLE breakfast each morning! We are also located exactly halfway between BOTH Edinburgh castle and Craigmillar Castle so take full advantage of our brilliant location to access both Castles!
BOOK NOW – Edinburgh Getaway
HAVE A LOOK AT OUR LUXURY ROOMS – SELECT THIS LINK