Table of Contents:
Here at Barony House, we are so proud of the quality of our Best Scottish Breakfast Edinburgh. The big secret behind our breakfasts are the fresh, locally sourced Scottish ingredients.
We avoid supermarkets at all costs, whever possible we shop direct with our local Scottish producers.
We have a very strong spread of International guests so it falls upon us to put on fine display the best of Scottish Breakfast Edinburgh Food.
Have you had yer Haggis yet Pal?
Haggis comes from many sources but nothing beats our local supplier – Macsween! Macsween has their factory just down the road from us, behind Ikea. A great bunch of people and we are so lucky to be able to get it fresh. Macsween claim they can do Black Pudding better than The English – haha! Well, we have had many guests sample Macsween's Black Pudding and given it a strong thumbs up. Stornoway Black Pudding is a Gaswegian favourite so we sometimes have taste competitions to determine the winner for that traditional Scottish breakfast Edinburgh / Best Scottish Breakfast Edinburgh experience.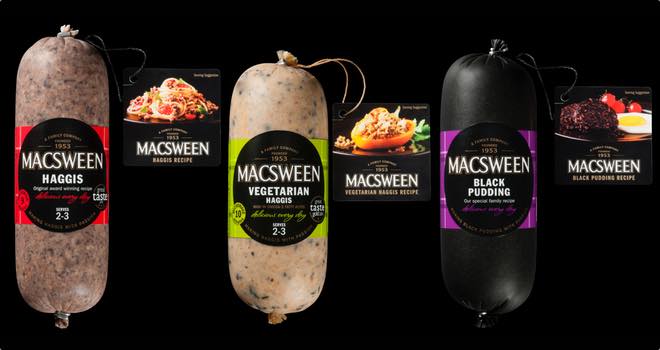 Award Winning Best Organic Eggs of Scotland:
We have always used D Blyth and Son for our eggs. After trying many alternatives, we have determined they simply can't be beaten. Deep orange yolks, organic and again we have them freshly delivered direct from source.
Blyths of Fife is a family run buiness operating out of Balcurvie Windygates, Fife serving the whole of Scotland. Their family farm has been running for over 60 years and been a trusted resource in the food industry providing eggs throughout Scotland. Blyths of Fife Ltd services a wide variety of customers ranging from market store chains to world-renowned restaurant and gouremet shops as well as us here at Barony House! Best Scottish Breakfast Edinburgh.
Variety is the spice of life: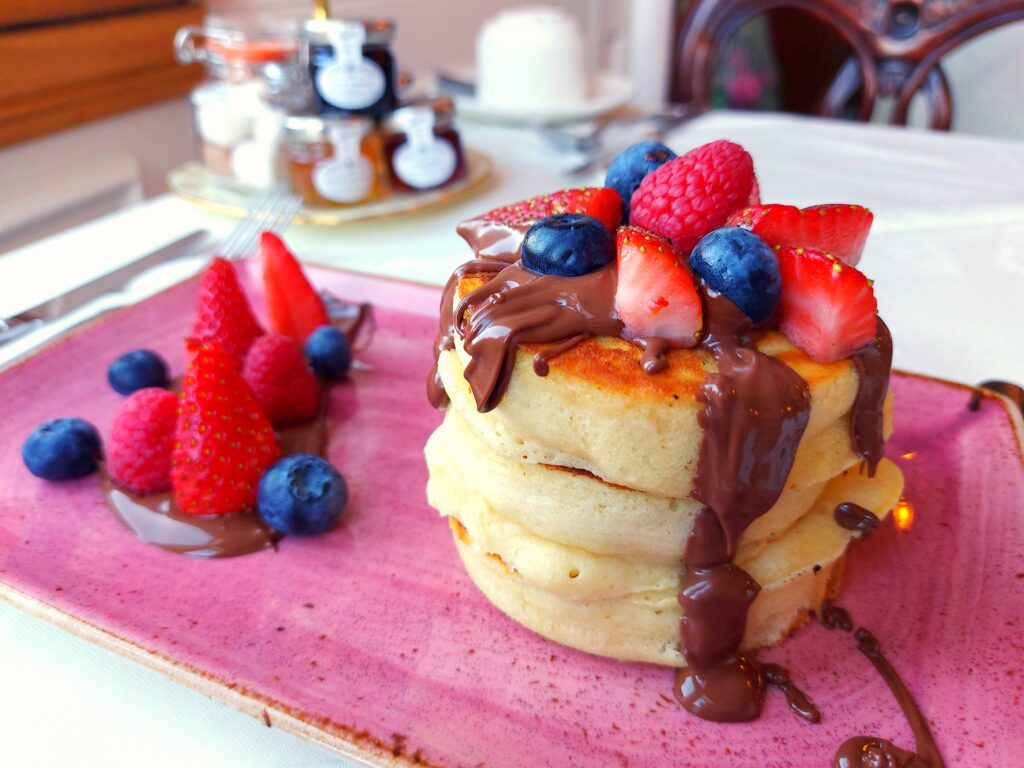 All of our gourmet breakfast dishes include Scottish produce. Our famous "Aussie Pancakes" contain the same eggs from D Blyth and Son, our Bagel and Salmon contains wild Scottish Salmon. Our bacon is also strictly Scottish!
Our extras include natural yoghart with home made fruit compote, containing fruit grown in Scotland. We grow our own Organic Apples in our rear garden, no preservatives and super fresh. You can taste the difference! Scottish Strawberries are an absolute delight – rich in flavour, no genetic engineering.
The Best Scottish Breakfast Edinburgh Experience Summary:
Scotland is a small population, only around 5.6 Million people. About the same population as New Zealand. With such a small population and plenty of rich, fertile land – Scotland has intrinsically high quality food. The flavours are that little bit richer, the meats a little bit more tender and those Fife eggs have that tasty, thick nutrient-dense yolks.
We top off your experience by providing freshly baked Scottish Bread each morning – sorry the recipe for our Scottish bread remains a trade secret.
We look forward to hosting your stay and sharing the best Scottish breakfast Edinburgh experience with you. Please continue to explore our website. A perfect resource to plan your trip ahead of your stay with us. Book Now – See you soon. 🙂