This luxury Bed & Breakfast Edinburgh was delighted to receive a lovely email a few weeks ago informing them Barony House had been nominated for a 'Thistle Award" in the category of "Most Hospitable B&B/Guest House". Susan was shocked but went through the necessary steps to register and go along to the awards ceremony:
The big night finally rolled around and Susan was proud as punch to just attend the evening and soak up the atmosphere as a finalist.
Set within the stunning venue of The Stables at Prestonfield House in Edinburgh…
THE AWARD NIGHT IN PICTURES: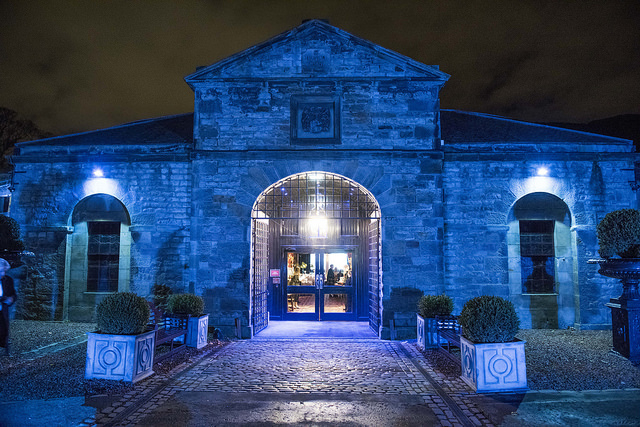 There was a Magician…
Dinner and of course champagne….
…and then this happened!
" I am still in shock and tremendously honoured and humbled to win such an accolade. Running a small luxury bed & breakfast Edinburgh / Luxury Guest House is a labour of love and to have this kind of recognition was a very emotional and personal experience for me and my family.
Many thanks to all for your continued support. Ultimately I am an ordinary working mother, sharing in this beautiful city and community. I don't consider myself outstanding, I focus on my family values and sharing my cooking and artistic design passions with every guest who visits.
I want to dedicate this award to all the hard working families, everywhere. My love to all. Susan. xo "
BOOK NOW! READ ABOUT OUR LUXURY BED & BREAKFAST EDINBURGH BELOW:
Built in 1887, Barony House – a small, luxury bed & breakfast Edinburgh, has been lovingly decorated by Susan's own hand, in honour of her famous ancestor – John Ruskin. John Ruskin, with Turner were pioneers of the arts and crafts movement where Susan has taken inspiration for some of her designs. Susan then hand-made the bed heads and designed and hand painted friezes around the house. Above all, her designs remain sympathetic to the arts and crafts era.
There is common lounge access and an honesty bar set in a traditional club room design. A flat-screen TV and tea and coffee making facilities are provided in each of Barony House's light and airy rooms, all designed to a luxury standard. Toiletries and a hairdryer are also included. All rooms have an en suite bathroom.
Book Now to enjoy a memorable stay in this Luxury Bed & Breakfast Edinburgh!
LOCATION, LOCATION, LOCATION
Barony House is located halfway between Edinburgh's 2 major castles! Read about our visit to our local Craigmillar Castle, select the photo below:
Rosslyn Chapel is easily accessible from Barony House. Either the 37 Bus will take you straight there from our front door or you can drive and park there for free! Rosslyn Chapel has plenty of free parking. You can park there and also walk to Roslin Castle and explore a walk through The Roslin Glen and end up at the old Gunpowder Mill. The ruins of The old Gunpowder Mill are a great destination point to picnic.
Arthur's Seat is constantly voted Edinburgh's #1 attraction and is only a 19 minute walk from our front door. Well worth the effort! Nobody know why this volcanic plume in the heart of Edinburgh is named "Arthur's Seat" there are mystical theories about the fictional King Arthur but it was most likely named after an ancient warrior known as "Arthur".

Read about our visit to this famous Hill below:
No stay at a Luxury bed & breakfast Edinburgh is complete without a delicious breakfast! Our chef, Susan is a foodie. She always has been! She used to own a food blog which went viral in the U.S called " My Food Obsession" – says it all!
BOOK YOUR STAY WITH US NOW – SECURE YOUR ROOM THEN RELAX IN OUR LUXURY BED AND BREAKFAST EDINBURGH!